Author Ray McGinnis Reaches an International Audience with 100+ Interviews in 2 Years
On the 20th anniversary of the attacks of September 11, 2001, author Ray Mcginnis published Unanswered Questions: What the September Eleventh Families Asked and the 9/11 Commission Ignored. His goal was to introduce readers to the behind-the-scenes struggles of the victim's families to keep the 9/11 inquiry on track. Drawing from mainstream sources, he explores in the book some of the unanswered questions the Commission omitted in its Report. Two decades after the attacks, McGinnis agrees that the way to honor those who died is to become acquainted with the September Eleventh families' unanswered questions – and why they still matter.
Now, just over 2 years since his book's publication, his book is still striving to new heights and piquing the interest of new readers. His media engagements are varied, and include podcasts, radio shows, TV shows, and book reviews. He has conducted and been part of over 100 interviews to date, across 10 different countries and 24 US states. Some notable interviews include Mondays with Ron Brewington, The International Center for 9/11 Justice, Writer's Voice, and TNT Radio. This widespread exposure has significantly contributed to the book's ongoing relevance and impact.
The proofreading process was more thorough and engaging with me as an author than I had experienced before. And it was very helpful.

Ray McGinnis
Production Strategy:
The steps that transformed the book's initial manuscript into a published book were:
Professional Editing
Thorough Indexing
An Engaging Cover Design
Creation of a Book Website and Blog
eBook, Paperback, and Hardcover Release
Selection of Keywords and Categories Optimize Online Discoverability
Sales Impact:
Ray McGinnis is still sharing the 9/11 families' Unanswered Questions with new readers, with 1,300 copies sold as of the 2-year anniversary of the book's launch. The book remains in the Top 25 of his book's category on Amazon, with an average rating of 4.5 stars.
Glowing Reviews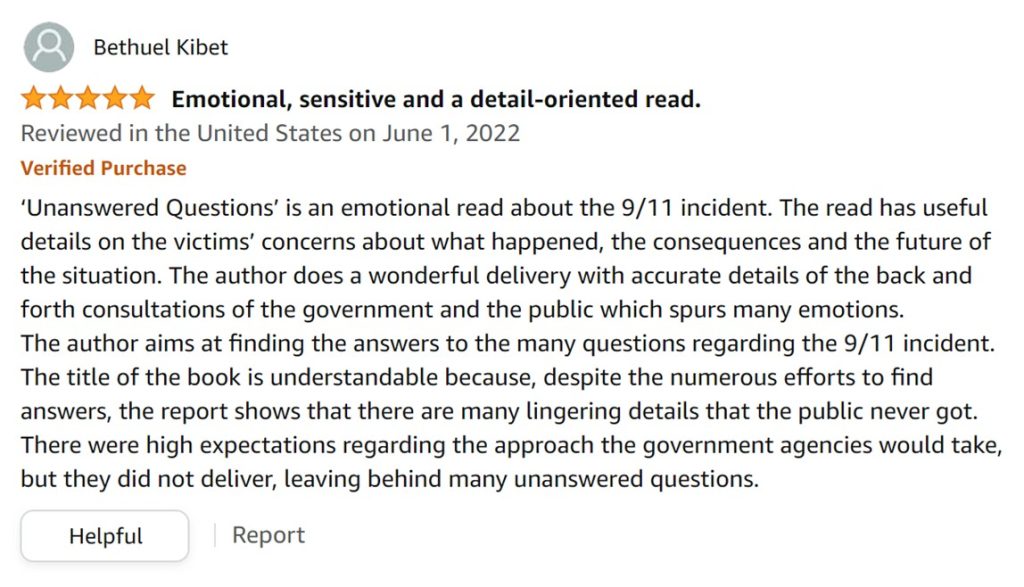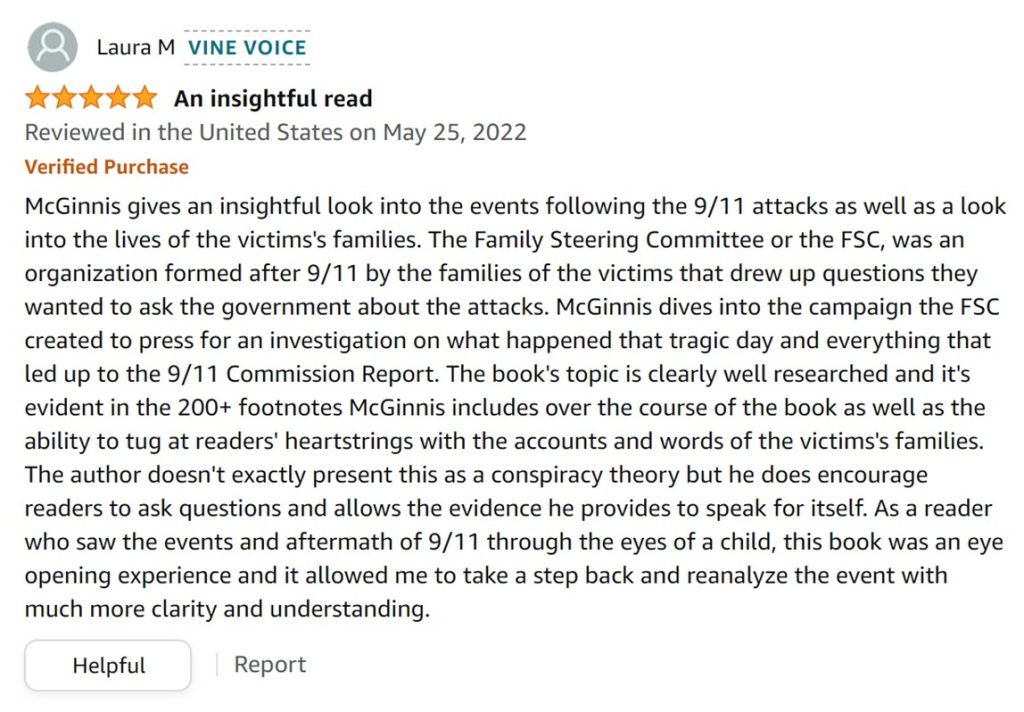 Conclusion
Ray McGinnis' "Unanswered Questions" stands as a testament to the enduring need for transparency and truth in historical narration. The book not only provides a voice to the September Eleventh families but also invites readers to critically examine the narratives presented in mainstream discourse. Through his comprehensive media engagement and thoughtful production strategy, McGinnis ensures that the dialogue around 9/11 and its aftermath continues to evolve, encouraging a deeper understanding of our collective history and its implications for the present and future.
How You Can Get Involved:
Read the Book: Immerse yourself in the untold stories and overlooked questions surrounding the 9/11 attacks. Available in eBook, paperback, and hardcover formats, you can find it on Amazon and other major book retailers.
Join the Conversation: Visit Unanswered Questions to explore more about the book, and subscribe to Ray McGinnis's blog for the latest updates, interviews, and speaking engagements.
Participate in Events and Workshops: Keep an eye out for Ray McGinnis's workshops, public talks, and webinars, which provide deeper insights into the book's themes and the art of narrative writing.
Spread the Word: Share the book and its insights with friends, family, and your social networks. Engage in discussions, book clubs, and community forums to broaden the conversation.
Reflect and Write: Inspired by McGinnis's approach, delve into your own journal writing or memoir creation, exploring themes of history, narrative, and personal experience.
Are you an author looking to make a lasting impact with your book? Whether you're penning a groundbreaking historical analysis, an engaging novel, or a compelling memoir, our range of specialized services is designed to transform your manuscript into a masterpiece that resonates with readers worldwide.
About Ray
Over the course of writing his book, Ray McGinnis' search for information has led him to reflect on what it means to live in a post-9/11 world, and the narratives we trust.
In addition to Unanswered Questions, Ray McGinnis is author of Writing the Sacred, and has taught journal writing, poetry, and memoir workshops for over 20 years. He is interested in the stories we tell, the ones we ignore, and how this shapes our worldview. Find him on: https://unansweredquestions.ca/, Twitter (X), Facebook and subscribe to his blog to keep up with his latest interviews and speaking engagements.
Get Our FREE Definitive Guide To Creating A Nonfiction Bestseller Here!