How to Design a Book Spine
Designing a great-looking book spine may seem intimidating, but with the proper steps and guidance, you can easily create one that represents your book perfectly.
If you're a writer or self-publisher, this blog post can help guide you in the design process so that your literary masterpiece looks as professional and inviting on shelves as possible.
Featuring simple tips for both experienced designers and beginners alike, we'll explore different aspects of creating a successful book spine together!
So let's start on our journey to creating a beautiful book spine that accurately depicts the story between its pages.
What is a book spine?
The book spine is the outer edge of a book between the front and back cover that contains the title, author name, and publisher information. It's usually made from a strong material like cardboard or plastic to protect the pages inside.
The spine is an essential part of a book's cover design as it has to be visually appealing and convey important information about the content within.
And, of course, it's the first thing you see when you browse the shelves in your local bookshop – you worked hard to create your masterpiece, now let the book's cover sell your vision!
Should I include illustrations and design elements on the book's spine?
Depending on your design preferences and budget, you may choose to have additional elements included on your book's spine, such as an illustration, embossing, foil stamping, die cutting, or custom shapes for added visual interest.
The number of pages determines the book's thickness once your book has been bound, which affects the spine width. This is something to take into account at the design stage.
What should you include on a book spine?
When designing a book spine, there are key elements to consider to represent the content inside effectively.
First off, the book's title should be prominently displayed in large font so that it's eye-catching and can easily be seen from a distance.
Additionally, you should also include the author's name. And many book spines include the publisher's logo and details of the book's position if it's part of a series.
Some book spines include graphic elements that wrap around from the front cover. Again, consider how you might use color to attract potential readers from the shelf.
Does a paperback have a book spine?
Paperback books, also known as softcover books, have a book spine, which is often less prominent than a hardback.
The paperback's spine is usually made up of a single piece of paper that has been folded and glued together. It is then wrapped around the book block and held in place with adhesive tape or glue.
The thickness of a paperback spine depends on the number of pages within the book. Still, it should be wide enough to comfortably contain all the necessary information, such as title, author name, and publisher details.
Do you integrate the book cover design into the spine?
You can integrate the book cover design into the spine's color or even continue the graphic illustration across the front cover and into the back cover. But make sure that the visual design doesn't obscure the text block along the spine.
Some hardback books include a dust jacket, which is a single sheet of thick paper that wraps around the inside of the front and back cover, often echoing the book's cover. The dust jacket helps to maintain the book cover's integrity.
How to design your book's spine
They say you can never tell a book by its cover. And to a degree, that's true. But how many times have you browsed the shelves and turned to the back cover of a book because the front cover was eye-catching?
I'm guessing it's a lot. Don't worry – it doesn't make you shallow; it's human nature. We all do it.
Because in the publishing industry, we say:
The front cover attracts
The back cover sells, and
The spine broadcasts (because it's the first thing a reader will likely see).
So, once you've decided upon the information you want to include, it's time to consider the overall cover layout and design of your book spine.
How to orientate the text block on your book's spine
Think about how a bookstore might sell your book.
The book on the shelf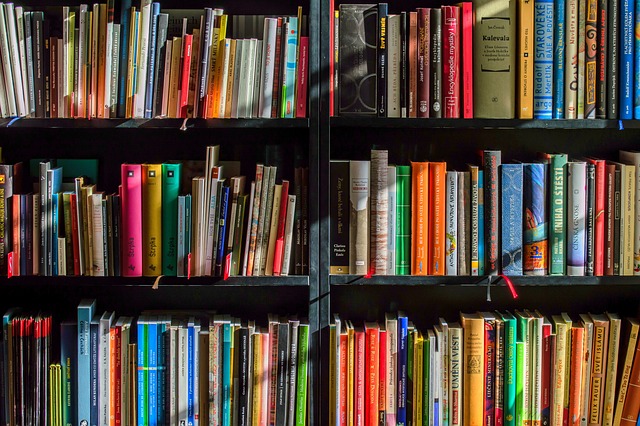 Firstly, book store owners will add your bookto their shelves. So, the book's spine is king – make it broadcast.
Don't add too many words to your spine; it'll deaden the impact. Books are tactile objects, so make your text clear and easy to see from a distance – you want the buyer to pick your book up and hold it.
The book on the display table
Secondly, you might be lucky enough to get your book included in the display table – in which case, your book faces upwards. This means that your front cover does the selling, and the spine copy needs to be the right side up (not upside-down).
Therefore, arrange the text block, so it flows from:
The top of the spine toward the bottom, and
The top of the text letters should face the front cover.
Which are the best book cover design apps?
It's all about the apps! And when you're designing your book cover, it's essential to understand the dimensions of your spine.
Because your spine needs to be wider than 1/4″ for it to hold type, leaving a 1/8″ safety area above and below the text.
How wide does my book spine need to be?
The spine's width depends on:
The number of pages, and
The paperweight
For example, we'll go with book wove 80gsm for our paper quality.
So:
A paperback of 100 pages needs a spine of 1/3″, while 200 pages need 2/3″.
A hardback of 100 pages needs a spine of 1/2″, while 200 pages need 2/5″.
Remember to allow the 1/8″ safety area above and below the text.
The best apps for book cover designers
Some of the best book cover apps are free, including:
Canva
Blurb BookWright
Visme
GIMP
However, some of these free apps only allow you to design the front cover, not the entire cover board, including the book spines. So, while they'll help you with helpful illustrations and text layers, you may not be able to design the entire cover board.
Some of the best paid book cover apps are:
Adobe InDesign
Adobe Spark
Book Brush
Placeit
Using a type-facing app for your text
You won't know how wide your book's spine needs to be until you've correctly laid your text out for the printed page.
You could use an eBook template in Word or Pages, or you can download a template from Amazon.
So, use the template to determine how wide the spine needs to be for your perfect bound books.
How to design your book spine – a summary
Hopefully, you've got all the information you need for perfect bound books. Just as a little tick list, consider:
The spine color – how it integrates with the rest of the jacket background lining.
The print font – keeping the text away from the spine's edges.
It's shelf appeal – remember, the spine is there to broadcast!
And while you may have to play around with font size and placement until you find a combination that looks visually appealing, you could also consider adding extra elements such as colors or patterns for added interest or include a unique touch with embossed details on the spine.
Thanks for reading!
Harry Wallett is the Managing Director of Cascadia Author Services. He has a decade of experience as the Founder and Managing Director of Relay Publishing, which has sold over 3 million copies of books in all genres for its authors, and looks after a team of 50+ industry professionals working across the world.
Harry is inspired by the process of book creation and is passionate about the stories and characters behind the prose. He loves working with the writers and has shepherded 1000s of titles to publication over the years. He knows first-hand what it takes to not only create an unputdownable book, but also how to get it into the hands of the right readers for success.
Books are still one of the most powerful mediums to communicate ideas and establish indisputable authority in a field, boosting your reach and stature. But publishing isn't a quick and easy process—nor should it be, or everyone would do it!
Very helpful suggestions. I am writing my memoir (for family and friends only) — not to publish in the market. I have about 200+ pages. The manuscript is finished, not quite yet in a PDF platform, but I'm close. I want it to be a beautiful paperback. I love my cover and my back page; now I need the spine. I suppose I need one of those paid websites; but I subscribe to Adobe; so maybe I should check there. I would like "simple" (instructions).
Get Our FREE Definitive Guide To Creating A Nonfiction Bestseller Here!