Book Jacket: How to Create the Perfect Nonfiction Jacket
Are you ready to take your hardcover jacket design to the next level? Are you a writer who likes to stand out from the crowd? If so, creating the perfect book jacket is an essential part of your success.
Since book jackets must work hard to attract attention in bookstores, it's important to understand what a book jacket is, its purpose and how it can be used as an effective marketing tool for nonfiction hardcovers.
In this blog post, we'll explore what makes a great book jacket, how to create one and why it matters.
Let's dive in!
What's the Difference Between a Book Jacket and a Book Cover?
A book cover and a book jacket are not actually the same thing. Book covers are typically designed with durable cardboard and are glued to the book at the spine. They consist of three parts, the front cover, the spine and the back cover.
On the other hand, book jackets are generally designed with paper or light cardstock and consist of an unglued wraparound sheet with five distinct parts: the font cover, the spine, the back cover, the front flap and the back flap.
While the front cover, back cover and spine can fit about the same marketing information on both items, the book jacket has a lot more marketing real estate to offer via the front and back cover flaps.
You can use this added space for branding elements like photographs, images, logos etc. as well as testimonials, an about the author section, and a marketing blurb about the book.
In short, book jackets offer far more room for creative design ideas that can help make your hardcover fiction stand out from other titles on the shelf.
With that in mind…
What Are the Elements of a Nonfiction Book Jacket?
When creating a nonfiction jacket for your publication there are 7 key elements you need to consider. Below, we'll look at each element individually with some examples:
Title/Subtitle
The title — along with any subtitles — should be prominently displayed on the front cover and the spine of your book jacket, and they should use the largest font size in your entire design. Your goal is to make your title highly legible to catch the attention of passers by.
For example, Tony Wagner's bestseller 'Creating Innovators: The Making of Young People Who Will Change the World' features a white oversized bold typeface on top of a school blackboard, which tells readers right away they're looking at an educational book.
Author Name
On most nonfiction books, authors will feature their full name or their initials and last name on the front cover and spine as well, but not as prominently as the book's title.
Typically, the font used for the author's name will be sized in accordance to their level of fame and recognition. So, a popular author like Deepak Chopra will have their name in an oversize font, rivaling the title's and often even placed above the title itself.
But authors who are not a household name yet will be better off choosing a font at least half the size of the title font so as not to upstage it.
Note: neither the title nor the author's name are displayed on the back cover (except in rare exceptions.)
Testimonials/Reviews
When it comes to testimonials and reviews, you want to reserve your most important ones for your book jacket, and you want to fill your entire back cover with them.
Some nonfiction books may even place a single review right on the front cover, either top or bottom (typically their most influential.)
The number of testimonials and reviews you can fit on the back of your book will depend on the size of your hardcover and the length of the testimonials.
For example, if your book is a 6 x 9, you'll be able to comfortably fit 7-8 short testimonials, or 4  long ones and still leave space for your barcode, ISBN, and other marketing information.
Any additional testimonials should be placed inside your book ahead of the title page — in other words, you want them to appear on the first page readers will see as they open your book.)
About the Author
Your author bio should be included in one of the book flaps, preferably the back-cover flap.
This section should include a flattering headshot, or shoulders up photo in high resolution. You want this photo to be preferably taken by a professional photographer using a suitable background that fits your cover's color palette.
Below your author photo, you should include a short bio, including your credentials, what you do for a living (e.g. doctor, psychologist, marketing consultant, director of a nonprofit, company executive, etc.), mention of other books you've written, and ways for readers to learn more about you — e.g. your author's website, twitter handle, etc.
Make sure your bio is written in the third person and to always give proper credit and copyright attribution for your author photo.
About the Book
Every nonfiction book needs a summary teaser section to entice potential buyers into picking it up and taking it straight to the cash register.
The goal of the about-the-book section is to reel in readers into your main thesis, showing readers what they stand to gain from reading your book without revealing any of your "secret sauce."
Your goal is to create intrigue through your teaser that can only be resolved by purchasing and reading your book.
Many about-the-book sections are preceeded by a sentence in a large font that presents an introduction to the main premise of the book.
Here's an example from 'Creating Innovators:'
This section must not be taken for granted and needs to be crafted with a lot of care and attention, ideally by a professional copywriter, in order to truly capture the essence of your book so you can hook your reader right from the jacket.
Illustration/Images
While words hold power, visuals amplify it. Your main illustration is reserved for the front cover of your jacket and it must capture the essence of your book.
Ideally, you want the main image to complement your title and not compete with it. Also, your title image needs to be printed in the highest possible resolution so that your book jacket has a professional feel.
Any type of blemishes, unintentional blurriness or pixelation will make your cover, and by extension your book, appear amateurish.
Your cover image should also be composed in a way that seamlessly integrates into your jacket's color palette.
Your overall goal with your illustration/title combo is to help create an atmosphere that draws readers into your story before they even pick up the book.
Publisher/Product Information
The final bit that's necessary to complete your book jacket is information about your publisher and product information.
Publisher information typically includes the name and logo of your traditional publisher (e.g. HarperCollins) or your own name and logo, if you choose to self-publish your book.
These two pieces of information are typically placed at the bottom of the spine, below the book's title and author's name, and also at the bottom of one of the inside flaps, typically the back-cover flap, where you can also add the publisher's website address.
Product information must be placed at the bottom of the back cover and needs to include:
A book barcode (called a Bookland EAN or EAN-13) used by retailers to laser scan the product into their point-of-sale systems.
Your book ISBN (International Standard Book Number)
The book price (typically shown as an extension of the barcode)
The above information needs to be printed in black ink and must be encased in a white background so that scanners can get the required contrast to read it independent of your jacket's color scheme.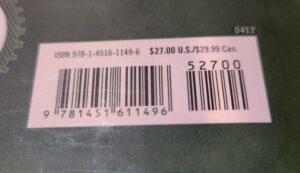 Overall Book Jacket Design
When these seven elements come together, they form a complete book jacket design that's primed for sales.
A book jacket is like a colorful billboard wrapped around your hardcover edition, and as such it must be designed to be memorable so potential readers can give you a second look when catching a glimpse of your book on a table or a shelf.
Ultimately, it all comes down to your overall cover design — how it manages to combine typeface, images and text into one coherent visual statement can make a huge difference on whether your book will succeed or fail in the marketplace.
All books are judged by their covers and a well-executed book jacket will play a key role in making your hardcover stand out from the crowd.
In conclusion
Creating a perfect nonfiction jacket isn't an easy task and should not be taken lightly. Every element has its own purpose and needs to be combined in harmony to create a book jacket that'll draw attention in bookstores, library shelves and readers' hands.
When done correctly, book jackets become like billboards for authors, attracting readers to explore what lies within.
To ensure your book jacket is successful, it's important to take the time to carefully stitch together all the pieces and not rush the process — this is the first thing potential readers will see when they discover your book and you want to make 100% sure it's not the last!
Harry Wallett is the Managing Director of Cascadia Author Services. He has a decade of experience as the Founder and Managing Director of Relay Publishing, which has sold over 3 million copies of books in all genres for its authors, and looks after a team of 50+ industry professionals working across the world.
Harry is inspired by the process of book creation and is passionate about the stories and characters behind the prose. He loves working with the writers and has shepherded 1000s of titles to publication over the years. He knows first-hand what it takes to not only create an unputdownable book, but also how to get it into the hands of the right readers for success.
Books are still one of the most powerful mediums to communicate ideas and establish indisputable authority in a field, boosting your reach and stature. But publishing isn't a quick and easy process—nor should it be, or everyone would do it!
A professional grade book takes 250+ individual tasks to complete. Cascadia is an expert in every single one of them. Do you want to harness our expertise to launch your book into the stratosphere? Chat with us!
Get Our FREE Definitive Guide To Creating A Nonfiction Bestseller Here!